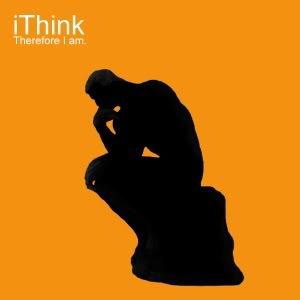 It's time for another Pop culture t-shirt. Those iPod Silhouette ads are so cool. Here of course is Rodin's Le Penseur (The Thinker). Don't you think Rodin would have worn an iPod silhouette T-shirt?
This is not one of those plain black silhouettes we see a lot of. Have a look at a bigger
iThink
image. The printed images are around 8-10 inches so you will get nice detail. Buy this
iPod Silhouette style design on T-shirts, Hoodies, Mousepads
, and more. iThink Therefore I am.