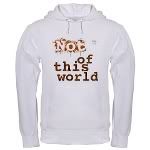 This Christian Hoodie is inspired by
John 17:14 "I have given them thy word; and the world hath hated them, because they are not of the world, even as I am not of the world."
Here
is a larger image so you can see the detail. You can't see the Chrome John 17:14 in the small image. It's next to the word Not.
I love to design Christian t-shirts.
Worldliness
is the theme of this Christian grunge design. The splatter and vector brushes help paint a picture in more ways than one. Grunge from the vectors show the corruption of The World. Splatter around Not shows The World's attempt to corrupt those not of the world but failing.
Edit
This design has had to be removed from sale. Somehow a group was allowed to claim copyright/trademark to the phrase "Not of this world." Imagine that. Worse is that the group asserts itself as Christian. They have a mission statement proclaiming to spread The Gospel. Their use of the phrase is in the biblical sense. It is not a case of two separate phrases that could lead to confusion or disparagement. That they also use "Not of this world" on t-shirts does not change that they acknowledge these as God's written word. I am disturbed that anyone especially a Christian would do such a thing. Do not get me wrong. I believe they have every right to protect their unique designs and logos. I do not believe they have the right to take a phrase from The Bible spoken by Jesus and say only they are allowed to sell products with it. As I have stated elsewhere their actions belie their mission. I ask that you pray on this matter. We who are not of this world must have no divisions among us.