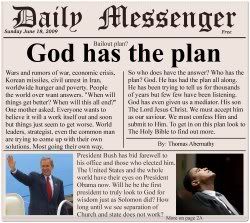 With the current focus on health care reform this design may seem behind the news. Actually the blog is new, not the design. This
Christian t-shirt
features a realistic newspaper. Pictured is outgoing President Bush and incoming President Obama.
This was an Anti -Bailout response to the question "Who has a plan?" The answer: "God has a plan." Apparently Washington didn't want in on God's plan. It's not too late to wear these
Christian T-shirts and Hoodies
. Show Washington who they should be listening to.