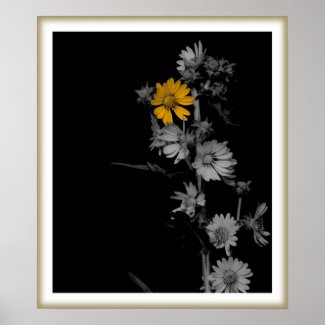 Compass Flower Print
by
tjustleft
View all the
artwork
available on zazzle.com
Here was another fun image to create. The colorized Compass Flower is standing out among the others in black and white. A border is added to give a vintage photo effect. Selective colorization was used to create this poster. This was done with Gimp,
GNU Image Manipulation Program
. The more I use Gimp the more I like it. It's hard to imagine that it's a free program sometimes.
This print is also available as a mousepad. Greeting cards and postcards will be added soon.